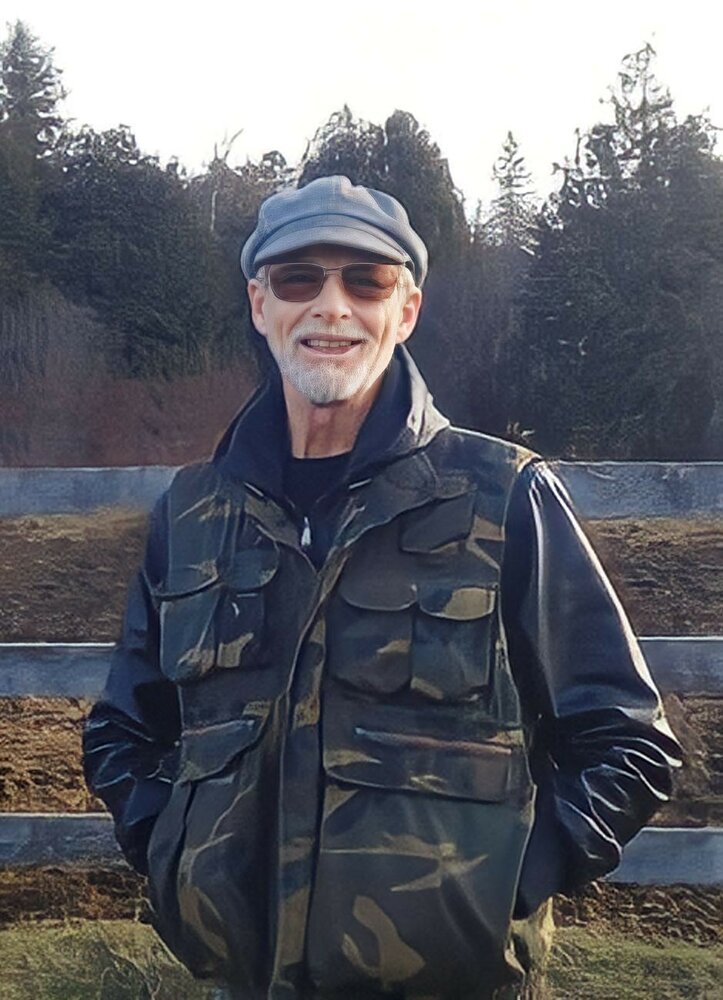 Obituary of Donald Peter "Don" Swanson
Donald Peter Swanson, of Shedden, Ontario.
Arrived: October 16, 1949, in Hamilton, Ontario.
Departed: April 2, 2023, in London, Ontario, 73 years young.
Son of the late Ann (née Martens) and late BjØrn 'Bud' Swanson.
Donald was a vibrant and charismatic man with a quick grin and a twinkle in his eyes. He was confident, competent, with an unquenchable thirst for knowledge. Quick to both get into trouble, and amazingly talented at getting out of it as well! He lived with gusto, but never a follower. Not one to back down from a challenge, he relished adventure and regaling people with tales of his exploits! No matter who was in attendance, they would listen raptly to his fascinating tales… folks closest to him knew the tales by heart, yet could not help but listen attentively to each entertaining recount.
Curious, clever, and inquisitive, he was always learning new things, and putting that knowledge to use. Motorcycles, mechanics, religion, history, building/renovating, bookkeeping, search and rescue, farming, aviation, farming... the list goes on and on. For Don, there were no problems, only solutions. No mountain too high, no distance too far, no river too wide; to Don, all of these things were surmountable.
His adventurous spirit led his daredevil personality to pursue many interests and hobbies. He always had a special bond with horses, dogs, a love of backwoods, mountain life, and an everlasting affair with Tai Chi. He was quick to make friends, and formed close and lasting friendships with some very special and colourful fellows. Ask any of them for tales of Don and they will launch into epic accounts of exciting white water rafting trips, hunting and camping tales, and what it's like to wake up to the literal 'crack' of Don ;)
From Burlington to BC, Mexico to Up North (:D Way up there somewhere) he was riding horses, motorcycles, cars, trucks, big trucks, and other machinery. Unapologetically, giving every day 110% in his continuous pursuits, exploits and projects.
He had a passion for the blues, playing cards and thoroughly loved having fun. He was wild in his youth, and a lot mellower in his second youth but he never stopped being a live wire and a go-getter. He has left a lasting impression on all the people he interacted with, truly an unforgettable and brilliant man.
Donald will be greatly missed by Carmen, his beloved fiancée (who he proposed to by insisting on having a 'sobering conversation'). He was her anchor, he was her heart, her Nobel Laureate Physicist and "Coureur de bois."
He was 'Number One Dad' to Kris (and Joy), and Lexi (and Gary).
Devoted and Loving Grandpa to Hayden, Hazel, and Helix.
Loving Brother of Carol (and Steve), Linda (and Howie), Peter and Angela.
Inspiring Uncle to Katie, late Jaimi, Jake, Cherri and Cassie.
He was Papa to fur baby Bruno and son-in-law to Maria.
He will be greatly missed by many dear friends.
Donald has been cremated. As to his wishes, there will be no visitation or funeral. In lieu of flowers, please consider a donation to your local animal rescue organization or SPCA, or anything else near and dear to you. A celebration of life will take place at a later date.
Arrangements entrusted to the Sifton Funeral Home, 118 Wellington Street, St. Thomas, Ontario (519-631-1160).
Arrangements
Donald has been cremated. As to his wishes, there will be no visitation or funeral. A celebration of life will take place at a later date.


Share Your Memory of
Donald Peter "Don"
Proudly independently owned and operated by
three generations of the Sifton Family since 1926.


Our Location:
Funeral Establishment Operator Class -1
Licence # 412

Have a Question?

Looking for something you can't find? We make it easy to get the answers you need. Please feel free to contact us at anytime.