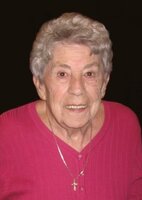 Maria "Mari" Novacich (nee Basan)
Passed peacefully on Friday, June 24, 2022. Mari was the youngest daughter of Nikola and Ana Basan of Siroka Kula, Croatia. She is predeceased by her eldest sister, Josie Babich, and will be dearly missed by her sister, Catherine Vlasic. Mari was born on November 19, 1936, on McKenzie Island in Red Lake, Ontario, where her father worked in the gold mines. Her family later moved to Delhi where they had a tobacco farm and then to Windsor, Ontario. Throughout her high school years, Mari loved her time playing on the Walkerville Collegiate Girls' Basketball and Volleyball teams. It was in Windsor that Mari met the love of her life and future husband, Grga (George) Novacich, who had emigrated from Lika, Croatia, in 1955.
They married on October 1, 1960, and spent their honeymoon in Ottawa. They then moved to St. Thomas, Ontario, and began their family there. Mari's entire life was devoted to her husband and their children: Anne Marie, Georgina, Patricia, Nick and Donna. Mari loved being a wife and mother.
Her love of family was expanded when her grandchildren arrived: Mitchell Jones, Allison Jones, Nicole Novacich, Brooklyn Novacich and Mali Grga "Ben" Novacich.
Being a Baba filled Mari with the greatest joy and pride. Mari will be deeply missed by Sarah Butterworth (Georgina), Krista Morris (Nick), and Shawn (Donna). Mari will be dearly missed by her sister-in-law, Kata Bacic. Teta Mari will be dearly missed by Frank, Sue, Rose, Mark, Chuck, Tom and Bob and their families. Ujna will be deeply missed by Marlene, Linda, Peter, Mary, Danny, Nick, and Mandy and their families.
Mari was loved and will be missed by extended family, kumovi and friends. As your mother, Baba Basan, used to say: We "love you too much" Mom. May your beautiful spirit find rest with Dad and may you know how grateful we all are that you loved us.
Relatives and friends will be received by the family at the Sifton Funeral Home, 118 Wellington Street, St. Thomas (519-631-1160) on Monday, June 27th from 2:30 – 4:30 & 6:30 – 8:30 p.m. The Mass of Christian Burial will be celebrated at St. Anne's Church, 20 Morrison Drive, St. Thomas on Tuesday, June 28th, 2022 at Interment in Holy Angels' Cemetery. Those wishing to honour Mari are invited to make a donation to the charity of their choice.
All in attendance at the visitation and Mass are kindly asked to wear a mask.